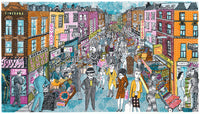 Partners in Print
Welcome to the Penfold Press.
The Penfold Press has worked closely with a small group of creative talents to curate a collection of beautifully editioned prints that are sought-after by collectors and art lovers alike.
Browse our selection of original prints, such as this new screen print by John Broadley or check out our patterned papers, pins and planners. You can purchase through our online gallery and all screen prints come with free delivery within the UK.
John Broadley