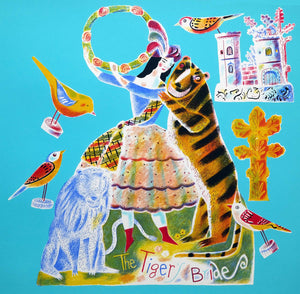 The Tiger's Bride by Clive Hicks-Jenkins. Signed by the artist. Edition size: 75, print size: 56 x 56 cm, Paper size 56 x 56 cm
The Tiger's Bride see's

Clive Hicks-Jenkins

return to some of the themes he explored in his first print with the Penfold Press Man Slain by a Tiger. The two prints have a common interest in Staffordshire Pottery and in particular their penny-dreadful celebration of awful events. Based on the Staffordshire group titled The Death of the Lion Queen the print draws on the tragic death of Ellen Bright who in 1850 entered a cage of big cats for the entertainment of a paying audience. At just seventeen years old Ellen was a relatively inexperienced 'Lion Tamer' and needless to say it didn't end well. 
All our original prints come with free postage within the UK