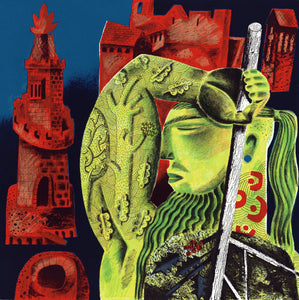 The Green Knight Arrives by Clive Hicks-Jenkins. Screen print, signed by the artist. Edition size: 75, image size: 55.5 x 55.5 cm, paper size: 70.5 x 69 cm
Arthurian legend is full of warriors, but the Green Knight is unique – unearthly, even monstrous, yet still a knight. His unexpected arrival during the Christmas feast is one of the most famous entrances in the canon of British literature, accompanied in the poem by what Clive calls a 'forensic' description of his outlandish appearance. 

Clive looks beyond the poetry to explore the character and cultural implications of Gawain's nemesis, in an intense portrait of mingled power and vulnerability. Our 21st century Green Knight is a modern primitive, whose identity is etched into his skin.
James Russell
All our original prints come with free postage within the UK