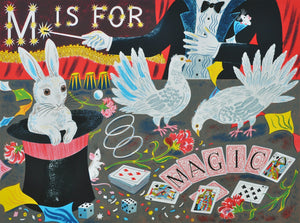 M is for Magic by Emily Sutton. An original screen print signed by the artist. Image size: 53 x 71 cm, paper size: 60 x 77 cm, edition size: 75.
'M is for Magic' is the 13th print in Emily Sutton's popular alphabet series and portrays a mysterious conjurer and the tools of his trade. Inspired by a fascination of old chromolithographic posters, 'M is for Magic' takes its inspiration from the Victorian posters that dazzled and wowed audiences across the land.
All our Original prints come with free postage within the UK.