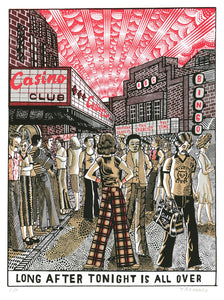 John Broadley
Screenprint. Signed by the artist.
Edition size: 95 | Image size: 355mm x 480mm |  Paper size: 387mm x 517mm
Our second print with the marvellous John Broadley is the first in a series of prints that explore our musical heritage. First up...the legendary Wigan Casino. 
For the better part of the 1970s, an unassuming venue in Wigan was the spiritual home to the UK's Northern Soul scene, with its DJs spinning rare soul tunes for fans – and dancers – which they'd sourced from around the globe. 
Till the early hours of a Sunday morning, fans converged each week to hear firm favourites and new imported records, perfecting their moves in this otherwise non-musical venue. 
A blaze of talcum powder, sports holdalls sharp style and even sharper moves, the scene was truly one of celebration and joy.