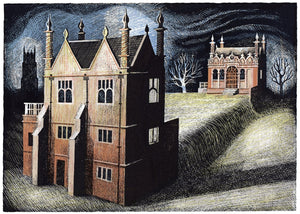 Chipping Campden Banqueting Houses. Screenprint signed by the artist. Edition: 75, image size: 39 x 28 cm, paper size: 47 x 37 cm. 
Chipping Campden Banqueting Houses is the first in a new suite of five prints by Ed Kluz to be published by the Penfold Press. The prints were initially exhibited as part of Ed's successful Yorkshire sculpture Park show Ed Kluz: Sheer Folly - Fanciful Buildings of Britain. 
Taking his inspiration from the buildings of the Landmark Trust, Ed Kluz's work 

explores contemporary perceptions of the past through the reimagining of historic landscapes and buildings. Ed has been fascinated by the 

Landmark Trust and the buildings in their care since happening upon a copy of the handbook many years ago.
All our Original prints come with free postage within the UK