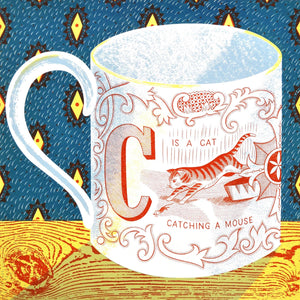 'Catching a Mouse' by Emily Sutton, Screen print, signed by the artist. Edition: 100. Image size 33.5 x 34 cm, paper size 38.2 x 39.8 cm.
"I've become obsessed with these ceramics and I'm currently developing my own range of plates and mugs that take direct influence from the transferware tradition. I want the prints to reinterpret the mugs in a bright and graphic way, building on my ongoing series of watercolour paintings exploring the same subject."
Emily Sutton
All our Original prints come with free postage within the UK.