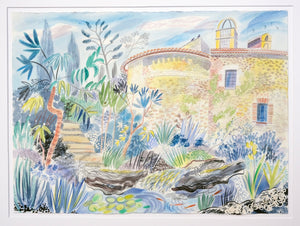 Castello d'emporia, Catalonia. Original watercolour by Emily Sutton.  
Watercolour, with ink and pencil. Image size: 52 x 38 cm
Emily's watercolours don't appear on the market too often so I'm delighted to be able to offer this one for sale.
Painted on location during a stay at a local farmhouse in 2017, 'Castello d'emporia, Catalonia' is a gorgeous example of Emily's skill with mixed media. 
The image is mounted to acid free mount board, unframed and signed by the artist.