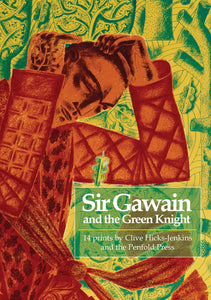 Sir Gawain and the Green Knight exhibition Catalogue. Clive Hicks-Jenkins and Penfold Press. 
Size: 245 x 170 mm
44 pages
Published by the Grey Mare Press to mark the opening of the exhibition 'Sir Gawain and the Green Knight: 14 prints on the theme of a poem' at MoMA Machynlleth March 2018. 

A fully illustrated catalogue with a text by the art historian and curator, James Russell, has been published to celebrate the completion of this wonderful series. The catalogue contains an introduction and text on each of the images. You'll also find a brief description of the screen printing process and biographical notes on all the contributors.