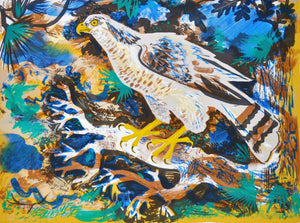 Hawk-Eye by Mark Hearld. Screen print, signed by the artist. Edition size: 75. Image size:  75 x 59 cm. Paper size: 81 x 66 cm.
'Hawk-Eye' a screenprint in seven colours, captures Mark in an expressive mood, with painterly brush strokes and bold use of colour acting as a ground from which the titular hawk surveys its territory. Made in the spirit of many of Mark's painted and collaged works, 'Hawk-Eye' takes its inspiration from the Ted Hughes poem 'Hawk Roosting' and captures this natural predator, high in the trees, with the suns rays setting majestically behind it.
All our Original prints come with free postage within the UK.